Electronic Visit Verification Software
Enhance Efficiency and Compliance with myEZcare EVV System
America's Electronic Visit Verification (EVV) System for Home Healthcare
At myEZcare, we bring you the latest breakthrough in the American healthcare industry: the Electronic Visit Verification (EVV) system. Our advanced EVV application aims to make healthcare easier, more manageable, accessible, and efficient for homecare agencies in the USA. With cutting-edge technology, we offer remote clock-in/out, seamless task entry, GPS location validation, and more, all available on both iOS and Android devices. As the industry evolves and complies with the federal 21st Century Cures Act, which mandates EVV solutions for Medicaid-funded services across all U.S. states, our advanced EVV system empowers your agency to thrive in this changing landscape. Experience the future of homecare with myEZcare and elevate your agency to new heights of success.
Reliable, User-Friendly, Error- Free EVV Application to Capture, Bill, and Ensure Care Delivery
How Much Will myEZcare Electronic Visit Verification (EVV) App Cost You?
Download our Mobile App from Apple or Google Store.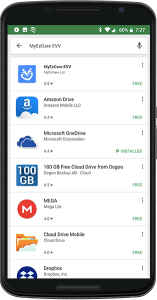 Login with your myEZcare EVV Credentials.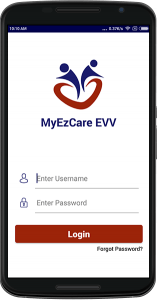 View your upcoming visits.​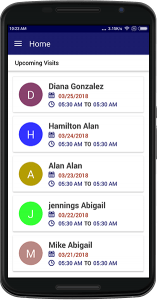 Click on your ongoing visit to clock in using your mobile app or via IVR using your code. ​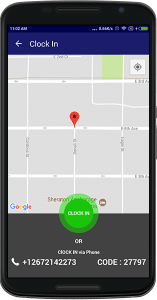 Fill your timesheet and submit the time consumed for each task assigned. ​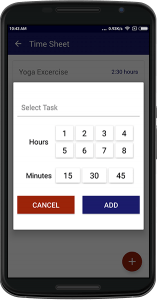 Once you complete your visits, clock out using your mobile app or via IVR using your code. ​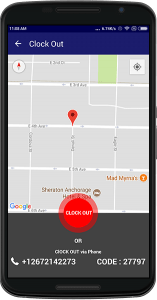 Remote Clock-In/Out: Say goodbye to manual timesheets and eliminate the hassle of collecting and entering data. Our EVV application allows employees to log their visits easily and accurately.

Risk Reduction: With our EVV system, you can minimize the risk of fraudulent activities and ensure accurate documentation of care services delivered, enhancing accountability and compliance.

Mobile Task Entry: Streamline your operations by enabling caregivers to enter tasks directly through the mobile app. This feature simplifies the process and reduces the chances of errors or missed entries.

GPS Location Validation: Verify appointments and ensure that caregivers are physically present at the designated location using GPS technology. This feature enhances the accuracy and reliability of visit verification.

Electronic Visit Verification (EVV): Enjoy the benefits of our comprehensive EVV system, which goes beyond simple visit verification. It provides robust functionalities, such as patient signatures, task completion reports, and electronic timesheets.
EZCare Solution Seamlessly Speak to the Bottom Line
In addition to technological software advances, one of Carecenta's greatest strengths is its ability to offer premium level service at a cost-effective price. The bottom line is that this saves clients a tremendous amount of time and money.
Centa measurably reduces agency operating expenses, simplifies audits, and provides an unprecedented transparency for regulators. It also speaks to the bottom line with increased profitability.
Deploy a set of technologies and strategies available through Carecenta.
Let the Centa Training & Support to improve your organization.
Free up your resources and time, allowing you to do more.
Centa will connect your clients, caregivers and coordinators, automate your operations in scheduling, compliance, billing and payroll.
Energize your sales and expand your business with new features that are offered throughout our management portals.
Let Carecenta do the rest.
Carecenta team has an in-depth understanding of the diverse challenges that health care providers are constantly dealing with on a day-to-day basis.

This includes quality improvement initiatives that measure performance, accountability and security compliance. As the demand for long-term care management continues to increase, the demand for services and management improvements will also increase.
It's very easy to gain a detailed overview of our software. Why not schedule a Centa demo today?
Seamless Integration with EVV Aggregators for Enhanced Efficiency
myEZcare proudly offers seamless integration with leading EVV aggregators, including Sandata, Tellus (Netsmart), HHAeXchange, and CareBridge. This integration allows agencies to utilize myEZcare as their comprehensive solution for both EVV and agency management. With our advanced connectivity, myEZcare automatically transmits all completed visits as planned to the EVV aggregator. Additionally, any visits with discrepancies, such as caregivers forgetting to clock out, are flagged for manual review before transmission to the aggregator. Experience enhanced efficiency and streamline your operations with myEZcare's integrated EVV solution.
You may find it interesting to note that the newest competitor's software in the long-term care market is actually eight years old and completely outdated. The associated costs for these outdated patched softwares are priced at a premium level.
Centa is built with the latest technologies from the ground up. In comparison, our new Software as a Service (SaaS) model completely eliminates the high cost of entry and management for the growing home care market.
At an affordable price Centa delivers a top tier software package with five-star customer service and support.
You may find it interesting to note that the newest competitor's software in the long-term care market is actually eight years old and completely outdated. The associated costs for these outdated patched softwares are priced at a premium level.
41%
of long-term care businesses stating that management software makes the biggest impact on their daily operations.*
65%
of all operational errors could be avoided by using the right
Stay Compliant and Embrace Efficiency
With our EVV system, you can seamlessly meet compliance requirements and confidently navigate Medicaid regulations. By capturing accurate visit data, monitoring caregiver activities, and reducing the risk of fraudulent practices, our EVV software empowers your agency to maintain the highest standards of accountability and transparency.
Choose myEZcare for Your EVV Needs
Make the smart choice for your agency's EVV implementation by selecting myEZcare as your trusted partner. Our user-friendly EVV system, combined with comprehensive agency management features, empowers your agency to enhance efficiency, improve caregiver accountability, and deliver exceptional care.
Contact us today to learn more about our state-of-the-art EVV system and request a personalized demo. Let us help you simplify EVV compliance and unlock the full potential of your homecare agency.